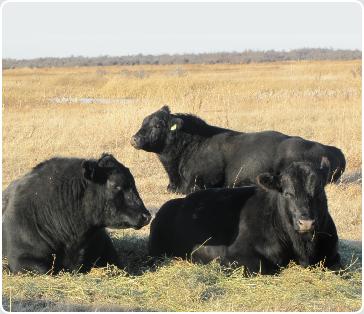 Over 60 years ago Lee Beasley had a vision that southern Alberta could produce good quality cattle, so he raised his family it that strong ranch life. For over 40 years three sons ranched together, but as the years passed and the families grew, it came time for each son to establish his own ranch. So with a third of the Beasley Ranching herd, we began 66 Ranch, a name chosen in memory of Lee whose first original brand was 66.
Our main ranch operation is located on the Matziwin Creek, just north of Brooks, Alberta. Our cows calve in April and May under strict ranch conditions. The cows and 1st calf heifers calve only on their own because we use very moderate birth weight genetics, yet use as much performance as we can to get the calves growing once they hit the ground.
Our coming yearling bulls are back grounded at our ranch, after we wean and are carefully grown into bulls. We believe in not pushing are cattle, but to let them grow on their own!
Our coming 2 yr old bulls are run outside at our ranch and grown the same way, by letting their genetics grow them into working ranch bulls.
Our entire purebred herd is on the Pfizer gold program. Our bulls are all given Fusogard for prevention of foot rot.
To add more strength and dynamics to our original cow base we purchased the entire Badlands Black Angus herd in the fall of 2011. The Sewall Families' expertise and excellent genetics are a great addition to our herd.